Regeneration of
Cegonha Green Park
The regeneration of the existing green area fits in with the concept of riparian zone, located in the low alluvium of Rio Grande. Underlying the park's structural, functional and environmental development is the combination of the symbolic elements associated with the Dinosaurs, the local tourist symbol, the shape of the footprints and the shape of the eggs, distinguishing spaces and functional elements.
Location

Lourinhã, Portugal
Client

Municipality of Lourinhã
Company

A1V2 – Engenharia Civil e Arquitectura, Lda.
Construction cost

EUR 600 000
Services rendered

Concept Design | Urban Detail Design | Environmental Licensing | Technical Assistance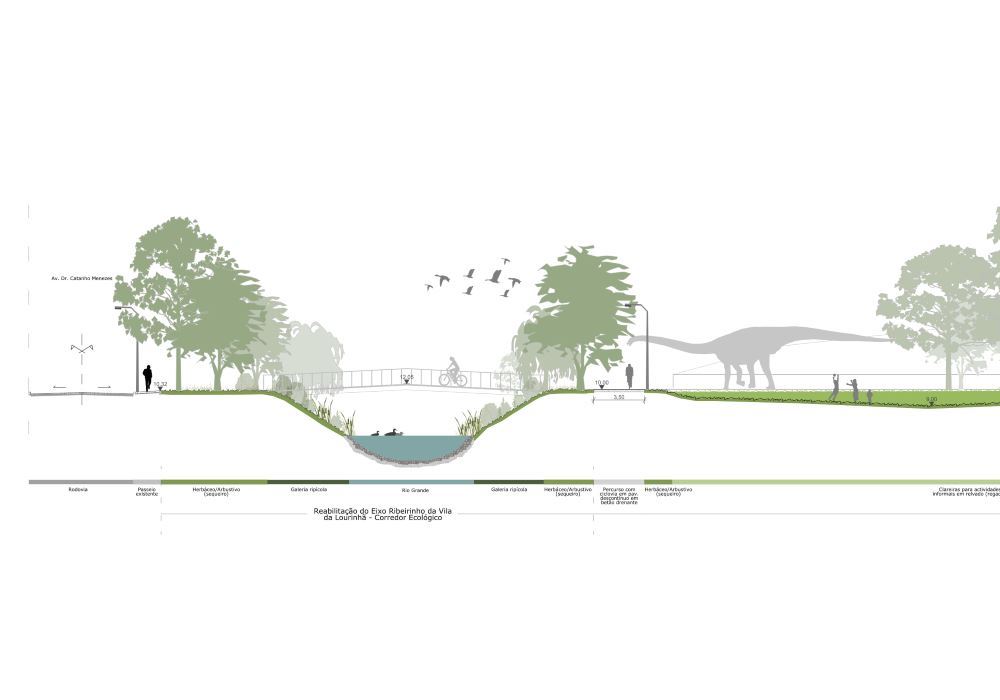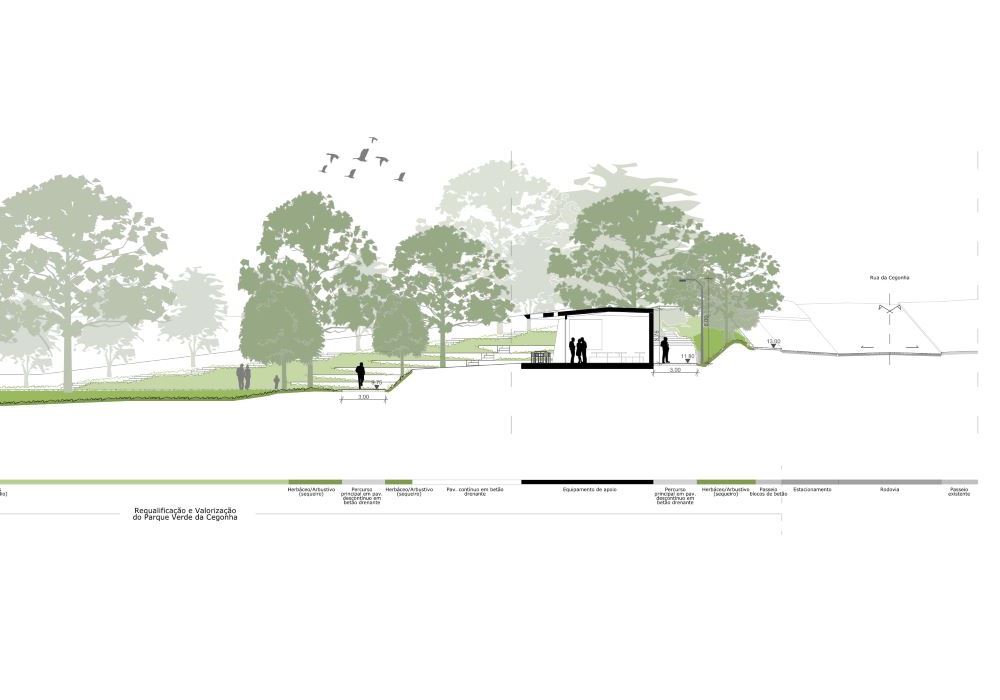 Description

The goal of the project is to regenerate a public space in a predominantly green area for the development of an urban park – the Cegonha Green Park, a riverside area located in the alluvial plain of Rio Grande, to the East of the historical center of the village of Lourinhã, where the main facilities and public services are located. The project is designed along the Rio Grande (a permanent waterway), in close relation with the regeneration of the town's riverfront axis ecological corridor, a project by the same team. This allowed for agile technical and conceptual coordination between both projects. A crucial hydrological study was carried out to safeguard against the effects of floods and inform the design of new infrastructures. The concept underlying the
structural, functional and environmental development of the park is the interpretation of symbolic elements associated with Dinosaurs, the local tourism symbol, namely in the combination of the shapes of footprints and eggs in the delineation of spaces as well as in functional elements such as tree pits. In addition to the concept, the design was based on the following guiding principles: — Creation of a leisure/recreation/stay space, with walkways and cycle paths, and areas suited for outdoor physical exercise; — Ensuring a sustainable green space, in particular in the choice and implementation of equipment and green strata appropriate to territorial and functional characteristics, with reduced maintenance needs; — Deployment of
equipment suitable for informal activities, such as a fitness circuit, a sports field and ample green spaces for various activities; — Implementation of a restaurant area, toilets and a cultural space. Thus the park becomes an environmentally sustainable facility, integrating support functions (public toilets and bar), and claims its role as an area for leisure and cultural dissemination. Considering that the area to be intervened is part of the National Ecological Reserve, classified as both a flood-threatened zone and a strategic area for groundwater protection and recharge, the natural conditions for infiltration and water retention were guaranteed by allowing water overflow and return movements and safeguarding flooded soil fertility and productive capacity.