Road network reformulation in Alfragide's commercial area
A demanding project aimed at meeting not only the needs generated by the concentration of the four existing commercial areas - AKI, Decathlon, Jumbo and Makro - but also to mitigate the impact of the deployment of another large area, IKEA.
Location

Alfragide, Portugal
Client

Instituto Estradas de Portugal (Former Portuguese Roads Authority)/Municipality of Amadora/Municipality of Oeiras
Company

A1V2 – Engenharia Civil e Arquitectura, Lda.
Construction cost

EUR 1.7 million
Services rendered

Developed Design | Detailed design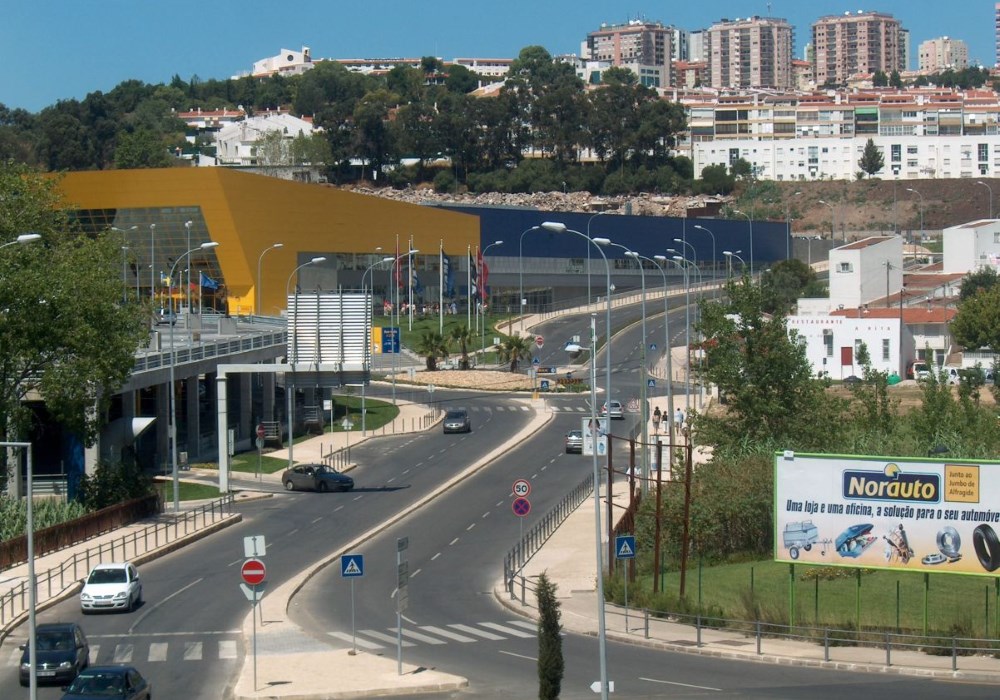 Description

In 2003, the commercial area of Alfragide, located on the border region between the municipalities of Lisbon, Amadora and Oeiras, was a heavily industrialised area that hosted four major commercial surfaces: AKÍ, Decathlon, Jumbo and Makro. This was the location chosen by the Swedish group IKEA, world leader in the distribution of furniture and home decoration articles, to establish its first store in Portugal. The expected increase of traffic due to the proximity between these large commercial establishments
and the consequent traffic jams imposed the need to reformulate the entire surrounding road network as a necessary condition for IKEA's establishment in that area. Being an area that was subject to strong land use and occupation constraints and of complex territorial management due to the involvement of two municipalities and of the Instituto de Estradas de Portugal, there was a need to intervene in approximately 1850 m of the EN 117 national road — altering its cross section from 2×2 to 2×3 lanes — and in an additional
3600 m of the Amadora and of the Oeiras road networks, improving and widening some of the pre-existing streets. The project also included the design of a further 2000 m of new access roads, with the construction of two viaducts that segregate the local traffic connecting the stores from the EN 117 traffic, establishing a fast and smooth connection to the CRIL (Lisbon Internal Ring Road). A1V2 developed work in the areas of layout, earthworks, drainage and traffic signs and road safety equipment.