A tower composed of twenty-five floors above ground level and one basement.
Location

El Madania, Algeria
Company

A1V2 – Engenharia Civil e Arquitectura, Lda.
Construction

Not applicable
Construction cost

Not available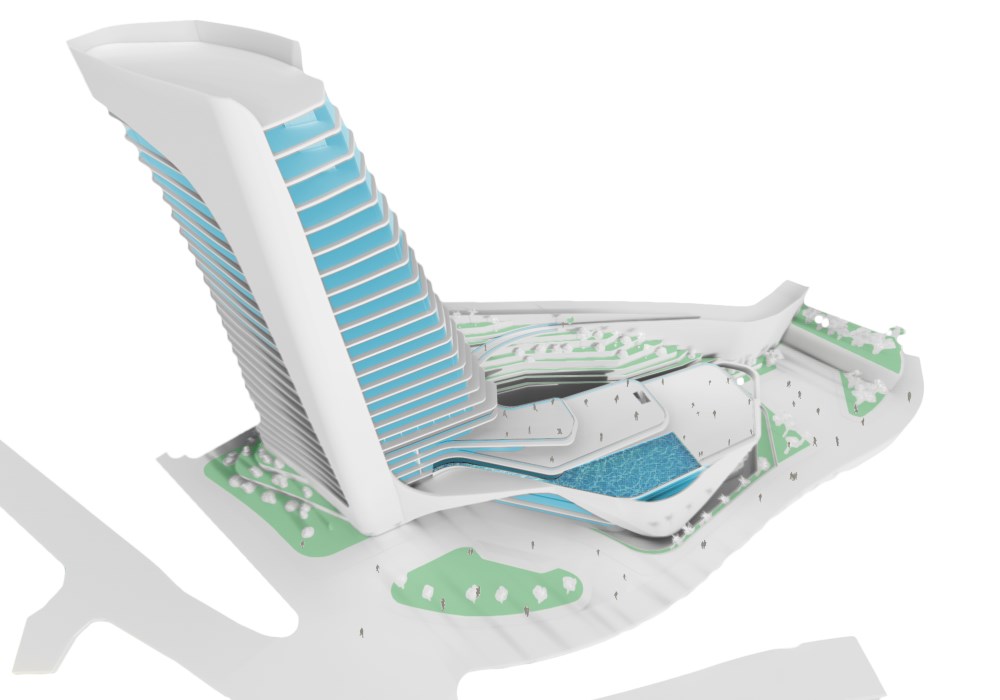 Description

The hotel, in El Madania, is located in a tower composed of twenty-five floors above ground level and one basement. The basement holds the car parking, with approximately 3700 m², and other technical spaces with close to 550 m². All common leisure and service areas are located between floor 0 and floor 7, with 5810 m² dedicated to leisure, 6300 m² to restaurants, 3330 m² to services and 5050 m² to the business centre.
The rooms and suites are located between the 8th and the 25th floor, occupying 16 250 m² and 2820 m², respectively. This building formally affirms itself as a landmark that dignifies and characterises the surroundings and that is capable of generating a local architectural and economic synergy. With all this in mind, the proposal features a slender building, founded on platforms that rise from the ground and become narrower as they rise.
A structure similar to a backbone is the focal point of the tower exterior. It supports the base platforms and their functions, while at the same time unifying the various elements of the hotel. The rippling dynamism of this opaque backbone, which rises up to the top of the tower all the way from its base, surrounds the base platforms and reveals them on the facade, establishing an opaque/transparent dichotomy. Side by side with its function, the building constitutes a local and national tourist landmark, associated with a contemporary architectural image that revitalises its surroundings.